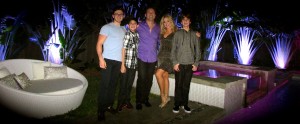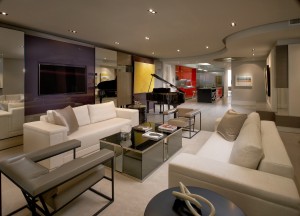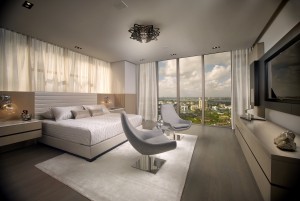 I recently went to a New Year's Eve party that blew me away. The lights, the music and the flow were all perfect. Everything was so elegant, yet comfortable. The party was at the home of Brett Sugerman and Giselle Loor – the couple who make up B and G Design, one of the hottest design teams in South Florida. And their party was the essence of their design style.
"One of the biggest things I always tell people, no matter how expensive a home is, everybody congregates in the kitchen. So what we always try to do is create a kitchen where you want people to be and it flows, " says Giselle.
Giselle and Brett have almost 5 decades of design experience between them. Brett's father was an architect, so he understands how to conceptualize a space and Giselle knows how to make the space beautiful.
Right now, the pair is working on a renovation project for my clients who are moving to east Fort Lauderdale from Weston. The family bought a 7500 square foot waterfront home in the Harbor Beach neighborhood. The home has amazing water views, but the couple wants it to be functional and practical for their three children and dog. They like to entertain. They like open spaces. And seeing the floor plan that Brett and Giselle have designed shows the magic of what this couple can do.
"Every project we do, we make it unique, because every client's wants and needs are different. We're not those designers who have that signature look. I really believe that if you interview your clients correctly, you can create a proper layout of space that can change the way people live," says Giselle.
For instance, in the Harbor Beach home, Giselle is using outdoor fabrics inside. With children and animals, they are so much easier to clean and you can't tell the difference between indoor and outdoor.
"We live with kids and we live with dogs, so we understand. You want to just live in a place and not have to worry about it," she says.
Giselle describes her project duties like a "quarterback" for a team. She and Brett coordinate the architect, the contractor, the landscaper, and the designer. They have their hands on the entire project. She says the biggest mistake people make when undergoing a major renovation is trying to cut corners.
"Why not go all the way? Some people will save 10 percent on something that makes no sense. If you're going to commit to renovation, commit to the whole thing."
Commitment – isn't that what a New Year is all about?